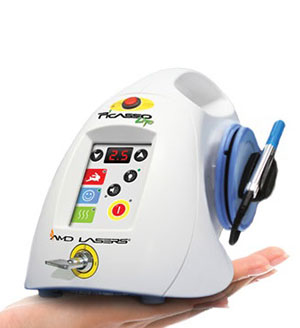 Now available to you, the Picasso is a powerful dental laser that replaces the dental drill in the majority of procedures in our practice. It causes virtually no pain, vibration, or noise. In fact, nearly every patient skips anesthesia because they just don't need it.
Making Dentistry Safer with Picasso
The Picasso laser is not only our way of keeping you happy but also keeping you and our staff healthy. The Picasso helps reduce the risk of virus and bacteria transmission by significantly reducing the amount of splatter and aerosols created during dental procedures. This means there are fewer particles floating in the air that could potentially carry germs and viruses.
Why Picasso?
The majority of hard- and soft-tissue procedures in our office are done with no anesthesia, and soft-tissue procedures are done with virtually no bleeding. Blood-free and anesthesia-free procedures represent a major leap forward in dentistry, as we are able to execute multi-quadrant dentistry, fillings on the fly, and soft-tissue procedures in a single appointment. What does that mean for you, our patient? You are now able to receive the care you need in a fraction of the time—and pain—you were accustomed to from traditional drills. The Picasso is also far less invasive than using a traditional handpiece, which makes healing time following a procedure much shorter. When patients have anesthesia they typically leave the office with that numb feeling still prevalent. With Picasso, you are able to go right out to lunch or back to work without that numb sensation following your appointment. The Picasso laser is truly changing what it means to go to the dentist.