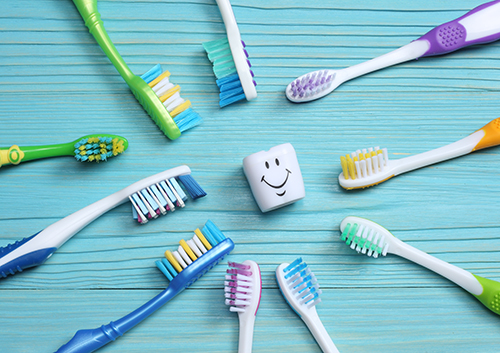 It's done a wonderful job for you, but after three or four months, the time has come to retire your toothbrush. Bristles that once easily removed food particles and plaque have become frayed and just aren't as effective. But now that you're regularly changing out your toothbrush, what to do with those retired brushes besides add to the local landfill? Check out some recommendations from Dr. Joel Hartjes and Dr. Jon Szewczyk for some second career options for that old toothbrush.
Make Your Jewelry Shine
A gentle brush with your favorite jewelry cleaner and your old brush will remove dirt from small spaces and filigree that a cloth just can't reach. Do check that brushing is safe for your jewelry—pearls, for example, are not a good candidate.
Keep Your Woodwork Dust-free
Keep the details on your wood trim dust free with an old toothbrush. Baseboards are some of the hardest places to keep clean—even vacuums have difficulty getting dust and dirt out of trim. But an old toothbrush is perfect for cleaning the top, the grooves, and the inside corners of your baseboards. You can also remove dust from around door trim and inside window tracks.
Polish Sinks and Faucets
Use a repurposed toothbrush to remove build-up where the base of your faucet meets the sink, or around levers and handles. And don't forget the metal ring around the drain!
Clean Kitchen Gadgets
Those miniature blades in your coffee maker or blender, the tiny holes in your cheese grater, the micro-openings in your microplane—small cleaning jobs need small tools! Try an old brush the next time you have a mini-cleaning problem.
De-grease Appliances
And while we're in the kitchen, don't forget your appliances. A toothbrush can clean grease around dials, handles, and knobs where a sponge can't reach.
Refresh Your Grout
There are special brushes made just for scrubbing grout, but give your old brush a try first. Use your regular cleaning solution or paste for fresh, clean grout lines on your tile floors and counters.
Keep Your Technology Sleek
Your keyboard has a busy life and it shows! Keep the spaces between your keys dust and crumb free with a clean, dry toothbrush. The next time you're detailing your car's interior, try a toothbrush for cleaning around buttons and dials on your dash. And don't forget your remote controls, or any other place where keys, knobs, and buttons collect dust.
There's still a lot of life left in that toothbrush! If you choose to reuse, do be sure to thoroughly clean your toothbrush before it transitions to another housekeeping detail. It's worth the effort—your old brush will prove useful in any number of new ways, and your home—and the environment—will thank you!